The Kremlin reacted harshly to the protesters who took to the streets for a second day to protest the official results of parliamentary elections of December 4 and anti-Russian leader Vladimir Putin, the current head of government.
Over three hundred people were arrested in the Plaza del Triunfo in Moscow, according to the Interior Ministry.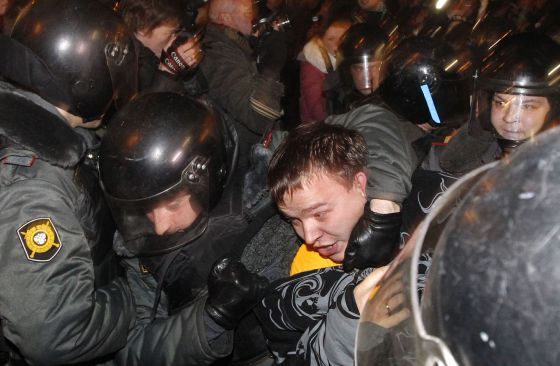 Among the special intervention forces, particularly the capital moved to strengthen public order and the protesters were numerous skirmishes.
Moreover, the two bags of Moscow, RTC and MMVB, posted declines in their rates of 4.46% and 3.66% respectively.
The decline was attributed to the "political risks" by some analysts.

In the Plaza del Triunfo concentration had been authorized by the organization "Nashi", comprised of young people loyal to the Kremlin, who had come especially from the provinces.
In the same place, held an unauthorized demonstration against election falsification.
In all there were several thousand people and prevail as one sector or another, you could hear shouts like "Russia", "Russia, Medvedev, Victoria", "People, Medvedev, Putin" or "Russia without Putin", "Shame"
and "People do not believe in Putin."
At night the police were mobilized after the engagement had been complicated by the presence of nationalists who shouted slogans harder.
From the afternoon on the main thoroughfare of the capital, had posted dozens of official vehicles, including buses, trucks, vans with bars, tanks, vans, ambulances and police cars.
Armed with shields, helmets and batons, members of the bodies of special intervention critical dispersed the demonstrators.
There were races, batons, and arrested romps in addition to the previous day.
Among those arrested was Boris Nemtsov, once deputy prime minister, who was released shortly thereafter.